Pepper
Decoymans Piper Bordeaux of Tollpepper
at rest now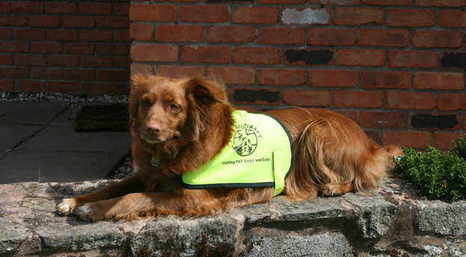 Pet Name : Pepper
d.o.b. : 15 June 2003 - 28 February 2018
Pepper was our first Toller and our introduction to the breed
She was a lovely natured girl and was always a great pleasure to own. She could be totally frustrating as she would only do what she wanted to hence her affectionate nickname - 'Mrs Lazy Knickers'.
Pepper did not enjoy being 'shown' so after her first two attempts we decided that it was not her forte. We tried agility with her and on some days she was very good and in fact did get rosettes for her attempts, other days she looked at you as if to say 'why? what is the point?' Due to her age and her eyesight she finished agility competing at anysize where she enjoyed the lower jumps and could get a lovely clear round.
Pepper was also a registered PAT dog and proved to be a great success with the people she visited.
Sadly Pepper as she got older her life mainly involved sleeping and eating, her PRA has meant she has all but lost her sight and, as happens, with older dogs she is losing her hearing. Pepper gave up the fight in February 2018 and we let her go to rest. She will be sorely missed.
Pepper's achievements:
General
Pepper has taken and passed her Bronze and Silver Kennel Club Good Citizens awards
Registered PAT Dog
Showing:
2006
National Gundog - VHC Graduate Dog or Bitch
Welsh Kennel Club - Res Post Graduate Dog or Bitch
Agility:
2009
Gundog Agility Show - 2nd agility Grades 1-2, clear round jumping grades 1-2
2010
Golden Valley - clear round in grade 1 Jumping
Heart of Wales - clear rounds in grade 1 Jumping and Agility
Prestbury Park - clear rounds in grade 1 Agility (x2) and Helter Skelter
2011
Dordale- clear round anysize jumping
2012
Gundog Agility Show - clear rounds in veteran jumping and veteran steeplechase
TAG Easter agility - 3 clear rounds in anysize jumping
Dordale spring - clear round in anysize jumping
Worcester - clear round in anysize jumping
Golden Valley - clear round in anysize jumping
Caerphilly - clear round in anysize jumping
Dordale summer - clear round in anysize jumping
Prestbury Park - clear round in anysize jumping
Bromsgrove - clear round in anysize agility
BHC - clear round in anysize jumping
2013
Gundog Agility - clear round in veteran steeplechase
Adams Easter Agility - clear round in veteran jumping and clear round in anysize jumping
Golden Valley Limit Show - clear round in anysize jumping
Wallingford - 2 clear rounds in anysize jumping
Dordale - clear round in anysize jumping
Thames - clear any size jumping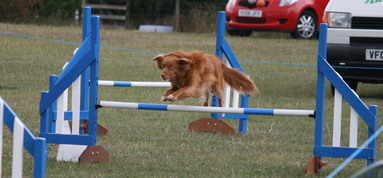 Her health tests:
Hips: RH - 5 LH - 3
Eyes - Optigen test prcd-PRA - affected : BVA eye test affected for GPRA
DLA Haplotype: 00601 005011 02001 01502 00601 02301