Our Litters
Please note that should we breed in 2022 it will not be until the end of the year and we already have a long list of interested people


If you are interested in finding a toller puppy then please be aware that currently there is a huge demand for puppies, you should contact the breed puppy co-ordinators who may be able to help you.

As a suggestion, you might like to visit one of the Championship Breed Shows that the Tollers will be at where you can meet plenty of Tollers and even breeders and talk to people to find out more about the breed etc. Full details of the Championship shows that hold classes for the breed can be found on the club website here.

Fourth Litter

In September 2020 our lovely girl Rush presented us with her litter of beautiful puppies which all left for their homes at the end of November. We thoroughly enjoyed haiving our first litter in a long time and will put pictures etc up on the website when it has been fully updated.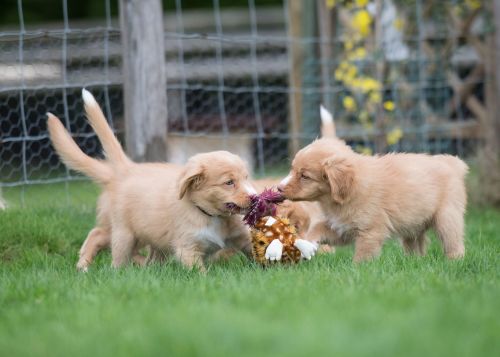 Third Litter
On September 26 2012 Finn gave birth to two puppies, sadly one was stillborn. We are delighted though that we have one little boy to love and enjoy. More information and pictures will be posted soon.
Here is a picture of 'Solo' with his mummy at two days old, he is doing very well and seems to be thriving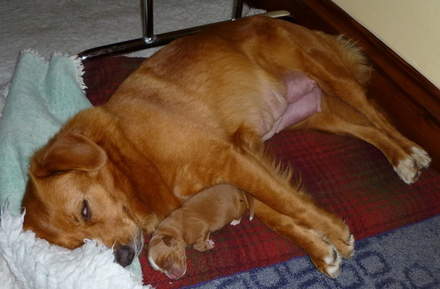 Solo has been doing really well and at 2 weeks old is a good healthy size, he is constantly moving and has a good set of lungs on him when he is frustrated. Finn has recovered well from her caesarean section so lets us hope there is no lasting effect.
Here he is at two weeks old, asleep so he is in focus, have not yet managed to get an in focus picture when he is awake becasue he does not stay still.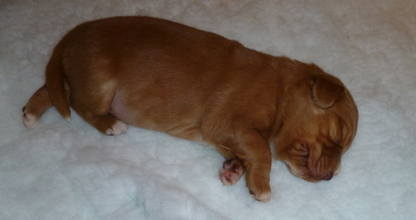 Solo is now 4 weeks and up on his feet and running around although a little bit unco-ordinated still, but that comes with practice, and all too soon we will wonder where that cute little baby went. Here he is at 4 weeks old.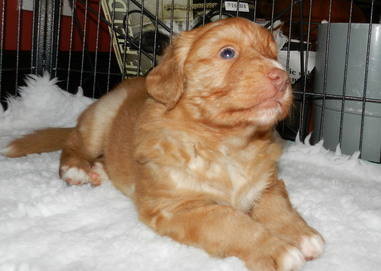 and here he is at 4 months old, what a handsome little man he is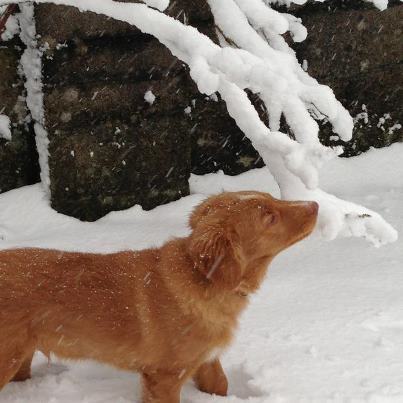 Here is our handsome boy at 10 months old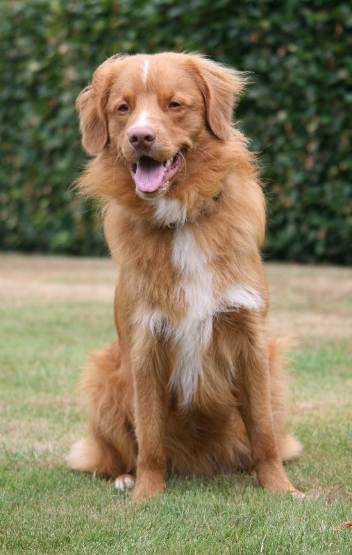 First Litter
Our first litter of puppies born 5 May 2009, we named them all after places that Andy had visited on his epic trip round Europe.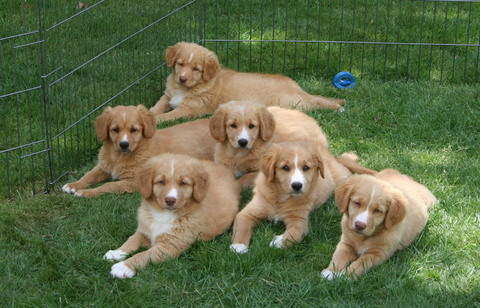 Meet Finn, Ryley, Tova, TJ, Digby and Henry
This was our first litter of puppies from Storm, the father is Taffy, Kymin Gonna be Great at Danehaven.
They are Tollpepper Tartu, Taranto, Tetovo, Tannas at Danehaven, Tarifa and Termoli, 4 boys and 2 girls.
We were absolutely delighted with how the puppies developed and hope that they continue to give as much pleasure to their owners as they did to us in the few short weeks they were with us. There are plenty of pictures of them on you tube - search for Tollpepper and you will find them.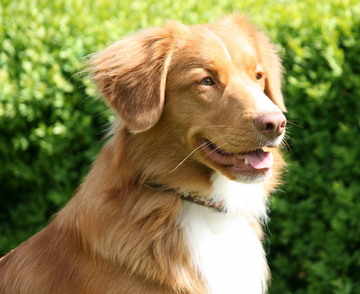 This is Ryley at one year old when he came to visit us, we think he is a very handsome boy and so did the judge at Isle of Wight Gundog who gave him a lovely blue card for 2nd place. Ryley has now been placed reserve at Bath Chamionship show, 1st in Post Graduate Dog and Reserve Best Dog at Windsor Championship show 2011 under C J MacKay, we are so proud of him, his showing career is really taking off now. He also won 1st in Post Graduate Dog and Reserve Best Dog at Midland Counties Championship Show 2011under Jeff Luscott.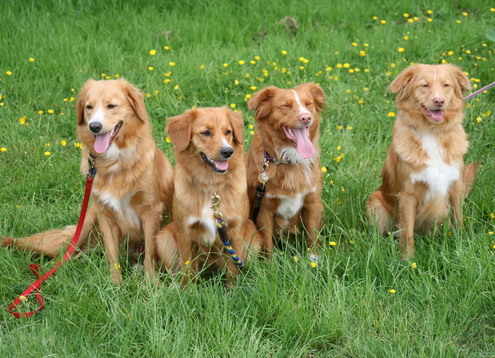 TJ, Finn Storm & Tova on a very hot funday in 2010
July 2011 - TJ, Finn & Ryley met up at Windsor Championship Show, Yulia kindly took a picture of them for us, we think they are growing up very nicely indeed and all three have now had a green card for Reserve Best of Sex - Crufts here we come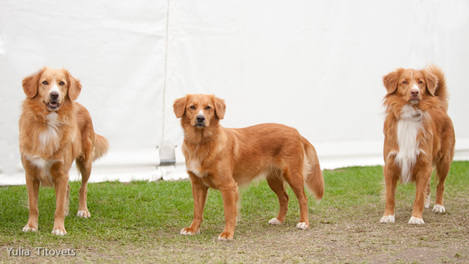 Second Litter
We are delighted that Storm safely gave birth to a litter of 5 beautiful puppies on 15 April 2011, she had 2 boys and 3 girls. Their father is Jack - Jocar's Wild Tollchester at Dinaskarrek .
Here is Storm with her babies on 24 April 2011 so they are 9 days old in this picture. There is some video of them on youtube (look for Tollpepper) if you want to enjoy puppies moving around and squeaking.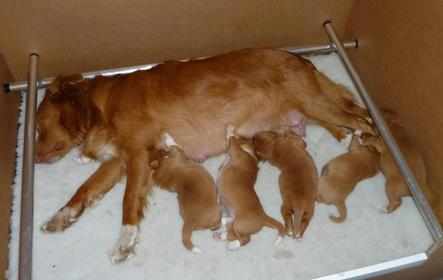 May 16 2011 - It would be really nice if the puppies would stay still long enough to take their picture, here they are with their mum, but not exactly posing for a good picture. They have all met their new owners now and we have a Rufus, Buan, Ginger, Boudica and Pimms but of course that is today, minds usually change when it comes down to names.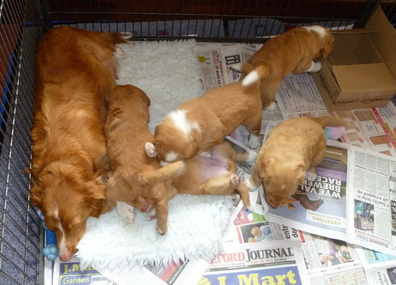 June 6 - the puppies are 7 weeks old now and will start to leave us all too soon, here is a picture of them at their stillest - notice that it is on their back legs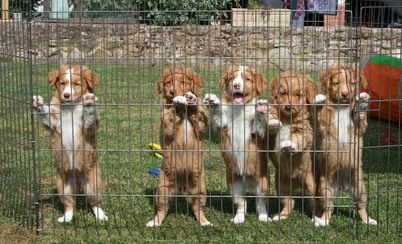 Ginger, Boudica, Buan, Rufus and Pimms
The puppies in this litter are all named for their grandparents so the boys are Tollpepper Majik's Thunder and Pride, the girls are Tollpepper Kinta's Fire, Mischief and Princess.
The puppies have all gone to their new homes - we wish them luck and look forward to hearing all about them and their new lives.
October 2011 and three of the puppies had their first outing to a Championship Show with the following results - Rufus, 2nd in puppy dog, Boudica 1st in puppy bitch and Best Puppy, Pimms 2nd in puppy bitch to her sister. What a wonderful debut for them.