News and more pictures
PLEASE NOTE THAT I AM CURRENTLY UPDATING THE WEBSITE SO SOME BITS MIGHT BE DUPLICATED OR A BIT ODD!


This is just a general page about things we have been doing with the dogs, some old some new (mostly it is written by Judith).
Keeping you up to date - Please note that should we breed in 2022 it will not be until the end of the year and we already have a lot of potential owners lined up.
2022
I am not sure what happened to 2021, but it seems to have gone by in a flurry of Breed Shows and life in general. We haven't done more than training for Agility over the past year, one show only where Solo did me proud and got a lovely second place and Billie just had the most fun she possibly could whilst acually doing some jumps, thank goodness for judges with a sense of humour. More work needed methinks.
So far in 2022 we attended Crufts, Billie was unplaced but she has improved so much and I was so proud of her performance, I could not have asked for more from her in such a huge show with such a different atmosphere. I managed a trip to Canada to meet our new puppy who will be joining us, we hope, at the end of April, something we are very much looking forward to.
Unfortunately when we had Billie's hips XRayed and checked they proved to be quite poor and so she will not be used for breeding, such are the perils involved in breeding so many things can go wrong even before you actually get to the point of being able to breed. This does not prevent her from doing agility or showing as long as we keep her fit and at a nice weight, she should be fine for many years to come.
Rush's pups all came here for their first birthday and we had a lovely afternoon of games, chat and a barbecue, thoroughly enjoyed by all.
The plans for this next year are to carry on much as we have been doing, training, showing and enjoying our dogs and hoping that they all stay fit and well for many more years. Finn will be celbrating her 13th birthday in a few short months, Solo will be 10 in September how can it be that our homebred pups are getting so old now?
2021
As we reach the milestone that is one year since all our world's changed beyond all recognition due to the COVID pandemic we are very much looking forward to things opening up slowly and life as we used to know it restarting. Training is starting again slowly with the dogs with our trainers and clubs looking at ways of ensuring we are safe yet can still train, shows are starting to be more possible and we have entered a Breed Show, that will be interesting to say the least, and an Agility Show, that is going to be an experience, just a couple to see how it feels being out and about doing those things that seem so far away in the past and then maybe more as the lockdown eases slowly. The news from the puppies is that they are all doing very well and from the pictures they certainly look as if they are maturing beautifully, we are so pleased with them and really hope that we can see them soon once we are allowed out and about.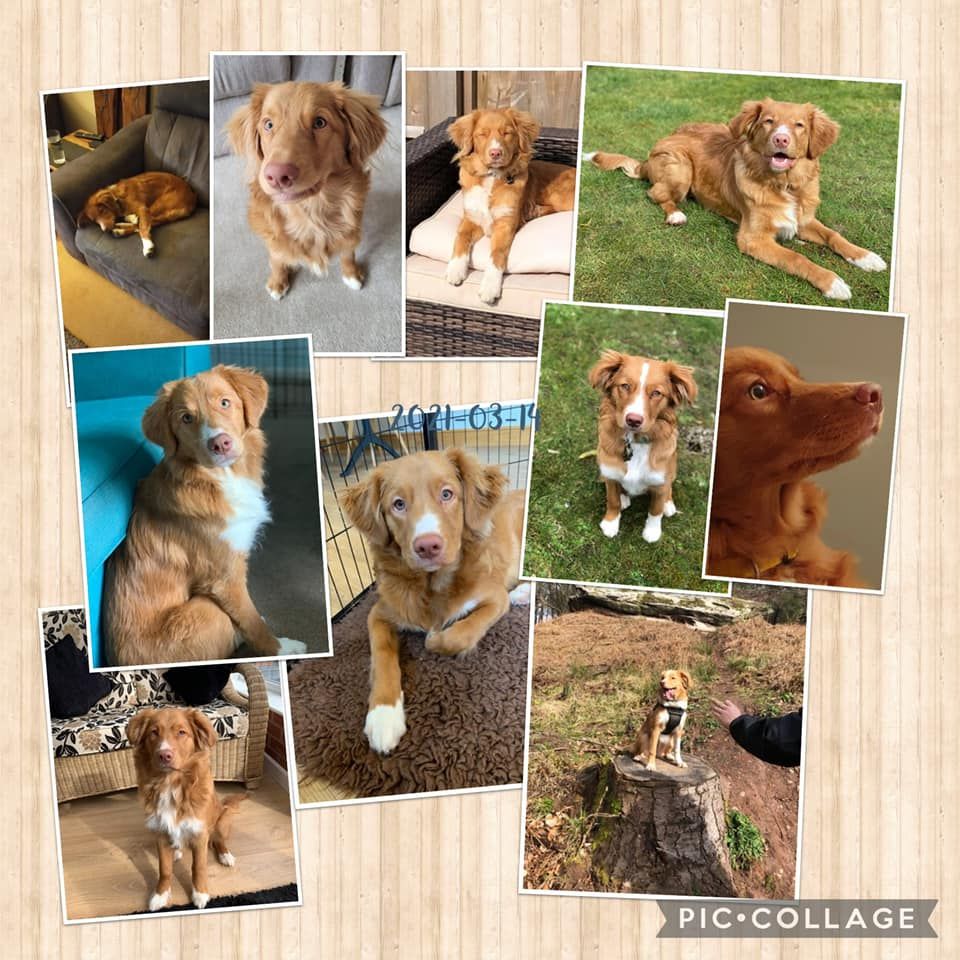 Welcome to a New Year and another lockdown! Life carries on with not a lot happening except the dogs being walked and some self training. Here is hoping that with the coming of a vacine things will start to improve and some normality return.
2020
What a whirlwind time we have been having lately, lockdown happened again so training and all other activities stopped. To be honest though, we were a little bit busy with our latest litter of pups, more information on their own page (which is coming), but suffice to say that Rush presented us with 10 puppies early in the morning of September 24th, we were a little surprised that she had that many but fortunately we had found some homes before they were born and we were able to add more lovely buyers for the puppies once they had been born. So the last two months have flown by and we waved all the pups off to their new homes in late November.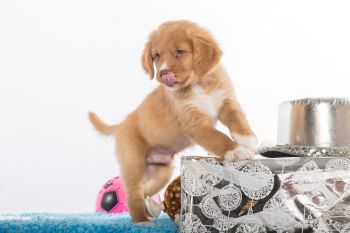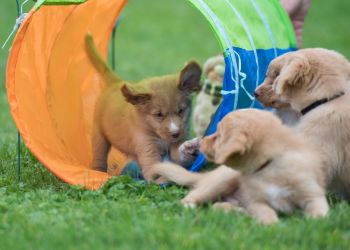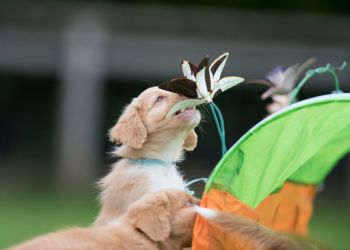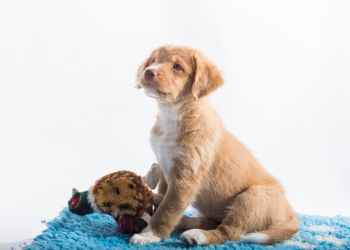 Another month gone in our strange world, are we in lockdown? Are some things curtailed because of partial lockdown? who can keep up with any of it? All I know is that the dogs have had us at home 24/7 and we haven't been away to shows or any of the normal activities we would do if life were 'normal' (whatever that is). We are still managing some training for Agility and the walking challenges continue, now I have signed up to do a virtual Lands End to John O'Groats - 874 miles within a year, so that means I have to walk the dogs at least 21/2 miles every day which is not difficult and we will do some other challenges alongside of this, hopefully completing it in under 9 months, as long as the winter weather isn't against us. Should be fun and in this lockdown world gives us something to aim for.

August now and still in a weird and wonderful world trying to work out the new normal. Thankfully having dogs we are able to get out and about and training has restarted for them, mostly on a 1-2-1 basis or in very small groups outside. Billie has also now got into a puppy class which means she can start to use her brains and learn more about being a more grown up dog and not just a puppy, she is, however, a delightful girl to have. Jess and I have been doing some walking challenges so are collecting ourselves some medals for the virtual challenges, gives us motivation to get out and about exploring, Solo and I completed the Couch 2 5K which I find amazing as I am so definitely not a person who runs, but we did it and now I have signed up for some virtual running challenges in the hope that it will mean I keep it up! Finn has been a bit unwell, thankfully with the right treatment it did not progress to anything serious but we had a scare that she was developing major liver problems but it turned out that it was a very nasty infection which, thankfully, has resolved itself and she is fully recovered. Otherwise life goes on without any competitions either in conformation or agility, a bit odd not going away all the time but quite nice to be at home as well.

June 2020 and the lockdown is slowly easing now. We finally got Billie from Canada at the beginning of the month, she certainly is making her presence felt with the others gradually accepting her, when she isn't bouncing around. With things easing off we are slowly going back to training on a one-to-one basis which is great and nice to be able to get out and about carefully meeting other people and training. Hopefully we will be able to get to some obedience classes soon with Billie as she is an exuberant pup that could do with meeting more dogs and people whilst learning how to behave, plus it will save too much madness when we are finally able to get out and do a lot more. Having said that we have been very lucky through all this having a field and the space to do things with the dogs and keep ourselves busy. Looking forward now to things gradually normalising, whatever that is going to be and hopefully get out to some shows in whatever form they are going to take.

So May 2020 and we are still on lockdown although there is talk that we may start being able to move around a bit more soon, we think it is very unlikely though that there will be any shows of any kind in the next few months. The dogs are all doing well being at home, some training is done most days with those that will be competing or in Jess's case working hard this winter if the shooting season happens! Billie is still in Nova Scotia being spoilt rotten and enjoying herself there, we are looking to getting her here by the end of the month, fingers crossed.

What strange times we live in at the moment, Easter weekend and everyone is at home because the world is on a lockdown due to the Corona Virus pandemic. This means that all shows are off and we should be training instead, but on your own is never as much fun as when you train with friends and we are all missing out on the company. The dogs, however, are enjoying being couch potatoes and not having to get up and out every weekend for something.

Here we are in February 2020, and we have carried on with Breed Shows and Agility, with some reasonable results, in fact Rush had a good week in mid February at a couple of open shows. She also managed to get a rosette at Agility, her very very first so a special one, not a clear round but nevertheless she got a second place so she was better than the others there.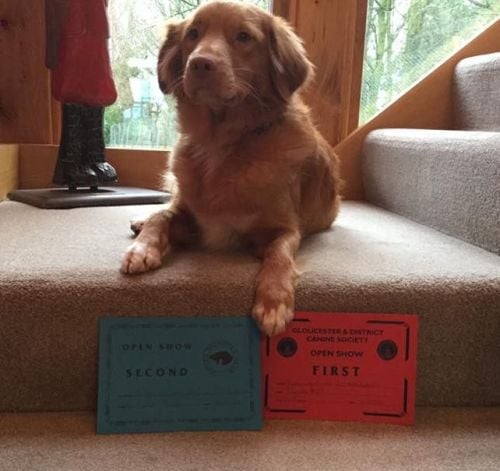 2020 started with us taking a trip to Nova Scotia to meet Billie who is the puppy we have chosen from the first litter that Molly had. Molly is the girl we bought in 2016 who ives in Canada. We were very excited as the litter was beautiful and it was a hard choice. Billie will be staying with friends until she is old enough to travel to the UK, she is staying with 5 small dogs that she will very quickly be bigger than, lets hope she behaves herself, we just can't wait to have her join us.
2019

I didn't add into the information for this year that we sadly lost Tova and Ryley from our first litter near the end of the year - we are so very sad and feel heartbroken for their owners Anne and Jane & Chris. Neither death was expected and both were quite sudden of unrelated causes, they were 10 years old, too young.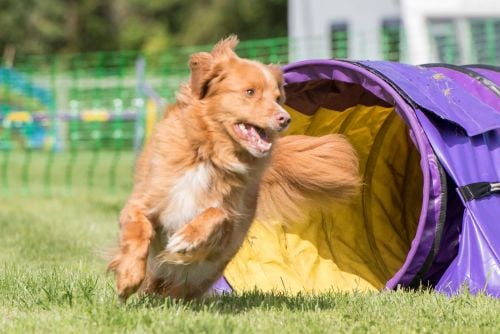 Solo at training camp, doing something he really enjoys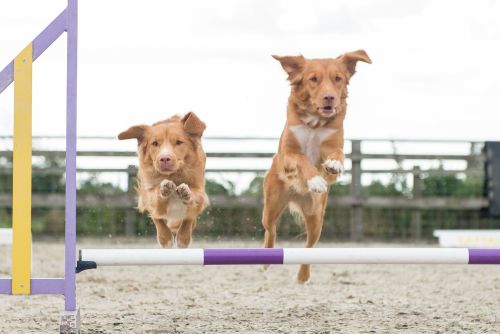 Rush and her sister Mia at training camp
November and we are on the count down to Christmas already. Solo astounded me this summer and had a brilliant show over the August bank holiday weekend and managed to win enough agility and jumping classes to put him up to Grade 5 in Kennel Club Agility, so pleased with this boy, he is such a star. Solo also reached his 7th birthday in September, how we remember the day he was born like it was yesterday. The puppies had their second birthdays in October which is another indicator that time is passing far too quickly! Jess has been loving her gundog training and is coming on really well although she still loves to say hello to everyone, but then she is a very sociable young dog. Rush and I continue to do breed shows but her results are not spectacular as she is a skinny minx because we do agility and you don't want your dog to be overweight when you do those kind of activities. Rush has also done a couple of agility competitions now and is working really well, we are only doing things that don't challenge her too much as at the moment the challenge for her is the whole environment of a competition rather than the course, I am happy if she is happy and does what I ask her to - at this point its not about getting a place or even a clear round but that she understands what to do and is confident and happy in the ring, places and wins will come in time.

So July already, where does the time go? Rush and I have been carrying on with her agility training when we can fit it in, she is thoroughly enjoying herself doing that and has a lot more coming up now as I hope to be competing with her later in the year. We also went to Three Counties Championship Show where she got a 2nd place in Post Graduate Bitch, happy with that. Its a busy time for the agility and we have just finished three weeks of shows, one of our favourites being Lune Agility Show in Cumbria where we have a lovely 10 days up in the Lake District, not our most successful trip competition wise there this year but nevertheless we had a lovely time. More shows coming up now, just have to decide what others to do and enter them!

One thing we did get was a letter from the Kennel Club that contained Solo's Silver Agility Warrant, so pleased with the little man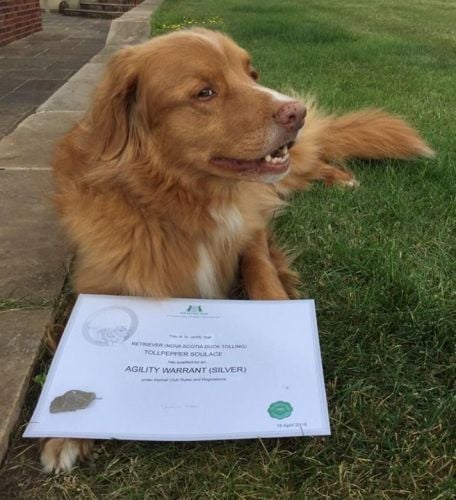 Another day and another show, breed again and we went to Bath this time where Rush was placed Reserve in the Special Beginners class and got nothing in the Post Graduate class due to being more interested in what was going on round the ring than in the ring, never mind as long as she is happy!
Finally in the process of updating the website, goodness me its taking time but hopefully you will like it when it is finished.
Already May, 2019 is speeding by Jess has been improving with her gundog training and is starting to listen to instructions, she will be a lovely dog to work with, she just wants to please. Rush won two classes at WELKS championship show so she is now qualified for Crufts 2020. We will still be going to Breed Shows when we aren't doing agility. Solo won an agility class at a show we went to over Easter which means he has two out of the four wins he needs to move to Grade 5 in Kennel Club agility.
April 15th and a very happy 8th birthday to our second litter, where has that time gone?

Sadly Rush didn't get any prizes at Crufts but her brother Galen was placed in the 4th place in his class, well done young man. Excitingly Fun won his ABC class at Crufts which was fabulous news.

So here we are at the end of February and I still haven't got around to updating the website! Next week we are making our trip to Crufts, this year for the first time in a very long time I will be showing a dog again as Rush qualified so fingers crossed the judge likes her, it would be lovely to come home with a place but even if we don't I will still be taking one of the best dogs home with me. Good luck to everyone that is going but especially Sarah with Galen who is Rush's brother and of course us. More Crufts news is that one of Storm's grandchildren, Fun (Somerzest Funtastic Flyer) is also at Crufts in the ABC Agility final so fingers crossed for him and success there, so very exciting.

Otherwise the agility season is starting in earnest and we are now entering shows for that, this year will probably be the last year for Finn, it will be sad but she has done very well for a girl that is not a huge fan of agility. Solo will continue and Rush is learning now and should be starting to compete at some small shows at the end of the year, so far she does seem to love her training. Rush will continue with the showing for now until she and I decide we don't enjoy it any more. Jess continues with her training as a gundog and now the shooting season is finished her training will start again in earnest and hopefully she will be ready to go out next season with Andy and keep him company.
2018

Finally, a picture of the pups!

Rush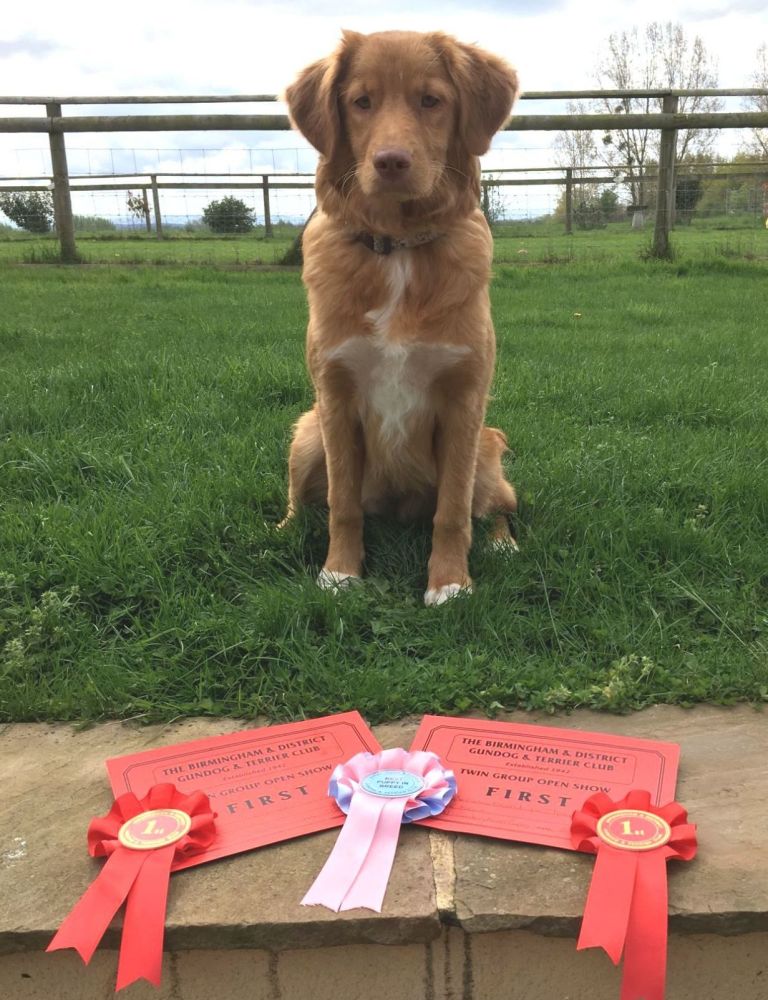 Jess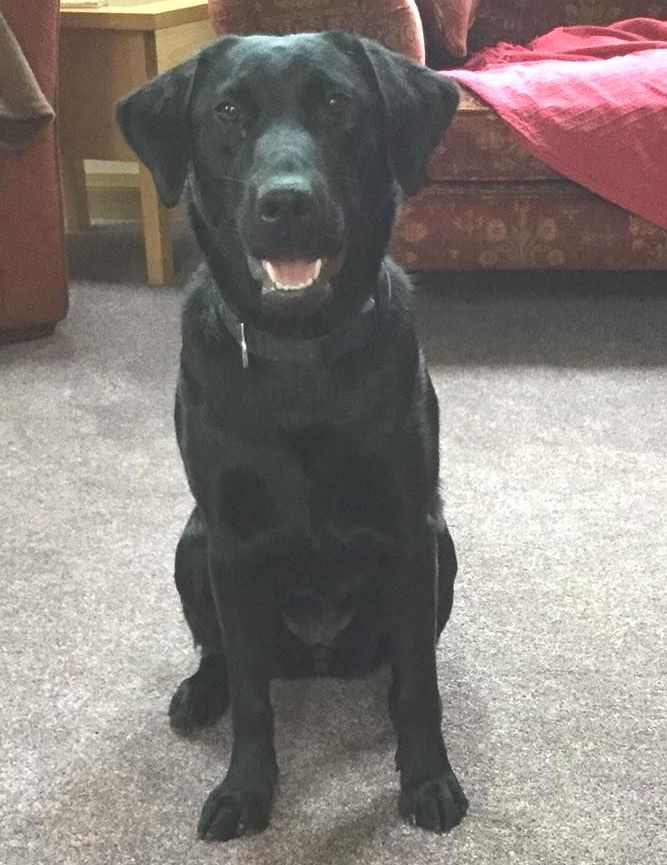 We have continued with our Showing career and are definitely improving our Ringcraft and getting placed when ever we go out, I cannot believe that the puppies are now a year old, where has that time gone? Finn qualified for a UKA Grand Final at Addington Equestrian Centre where she managed to get two clear rounds, one in Agility, one in Jumping and was overall 3rd in her Final - so very please with my special little girl. We now move into the winter season so will slow down on the agility front and concentrate on training and improving our skills, this will mean there is more time for Breed Classes for Rush in the lead up to Crufts to get her confidence up.
Rush has been attending some Breed Shows and has done quite well so far and is now qualified for Crufts having attained a 2nd place at Paignton Championship Show and a 1st place at United Retriever show, really pleased to be returning to Crufts to show off our lovely girl in March.
August already, how time flies by. The puppies are now 9 months old and full of beans, they seem to be growing up a little bit more so are a little better behaved than they were, the damage seems to be limited so far, mainly consists of digging holes in the garden and chewing sticks. It has been very very warm so trying to stop them overdoing things and overheating is a challenge.
We all went to Cumbria to enjoy Lune Valley Agility show where it was extremely warm and sunny, all the dogs seemed to cope well and the puppies loved the opportunity to go swimming in the canal and river. We had a good trip and Finn even managed to get the last win she needed to go up to Grade 6 in KC agility, so proud of her.
Meanwhile we continue with Agility training and can't wait until Rush is able to train too, Jess is doing small bits of retrieve work and enjoys occupying her brains.
How very strange it is to be saying its been too hot to do things when usually it is too wet. You have to love the English weather.
May
Yet again we have been busy. We have two new puppies who joined us just before Christmas one Toller, Rush - Ripplerush Orval for Tollpepper - and a labrador, Jess. They are 4 days apart in age and certainly have kept us very busy for the last few months. They are both adorable and developing into lovely dogs, very very bright too. We sadly lost Pepper in February, she had been failing for a while now and we took the very sad decision to let her go and join Billy, Poppy and Jack. She is much missed but at peace now.
The weather has put paid to a lot of our competing so we hope that the improvement we are experiencing will mean that we can actually get out and about and compete and maybe even collect some nice rosettes although it will be very strange not having Storm to run at agility as she has retired, she is going to do the odd Rally cometition so we can enjoy that.


Rush was 6 months old on 21 April so she was eligible to compete at a breed show and off we went to an lovely local open show where she came 1st in puppy taking best puppy in breed and 1st in AV minor puppy. Hopefully this means she will manage to qualify for Crufts 2019 at some point over the next few months, exciting times.
2016/17
Oh my is it really that long since I updated the website?
Anyway, we have been a little busy so I will stick to that excuse. We moved into the house in September 2015 since when we have been working on the outside making it dog proof and more like a garden than a mud bath. The paddock has recovered from the damage done by the horses that previously occupied it which is great, it still takes a day to mow it though! The rabbits and various other creatures have ignored all attempts to prevent them from causing damage so are just left to their own devices, thankfully the rabbit warrens are not so huge that the dogs get into them ...... yet.

Activity wise we have continued with Agility and Rally with Storm finally getting enough Grade 6 wins to gain Grade 7 and also getting her Gold Agility Warrant, I think this girl deserves her retirement and whilst she had a fantastic Kennel Club International Festival getting two first places, two second places and one third place but she really is showing her age so this is just about the end of her career and she will be sticking to Rally where she will be competing in Level 4.

Finn spends a lot of her time broken, which is a nuisance, mostly she seems to strain or sprain things so spends quite a bit of time not competing but when she does she has a great deal of fun, we have been doing some UKA shows and she has moved from Beginners Performance to Novice, still has to get a few more points to move out of Steeplechase Beginners. She has also started her Rally career and has done one competition so far where she achieved an excellent score under a very nice judge.

Solo goes from strength to strength in both Agility and Rally. In Agility he moved into Grade 4 and whilst he is not the fastest dog he is careful so will manage to get round a course that the faster dogs cannot, he also moved into Novice Performance and Steeplechase at UKA within his first few shows, so very proud of him. In Rally he is competing at Level 5 now. He is such a good boy.

Jack very sadly left us in November 2016, he unfortunately was diagnosed with Osteosarcoma in his right hind leg in August 2015, this is so painful and there is no cure, initially he had the affected leg removed and chemotherapy and was a very happy boy, even achieving his Rally Level 2 title with his last qualifying score on 3 legs. Sadly whilst he had cancer it was something else that affected his spine and he lost the use of his remaining back leg in November 2016 and left us very quickly after that. RIP little man.

Pepper is still with us, at 14 and a bit she lives in a world of sleep and food, moving around sufficiently to take in the air outside a few times a day. She has almost totally lost her sight and most of her hearing now but still has a strong will and potters on in her own way. We fear it will not be long for her now - sadly our pets do not stay with us nearly long enough.
In December 2016 we bought a beautiful bitch puppy, Turney's Sea Star at CFyre, unfortunately for various reasons she won't be joining us in the UK but will live in Nova Scotia under the care of our joint owner Dawn Fougere. We have been over to meet her once and hope to be able to see her at least once a year.

I think that brings things up to date for now, I will have to update the individual pages for the dogs, but that is a mammoth task in itself.
2015
Well I didn't keep my promise to myself to keep this more up to date
Quick highlights this year so far (August)
Solo managed to get a clear round in an anysize agility jumping class - YAY! there is hope for him, the next twice he competed were not quite as successful since there were other dogs that needed visiting and a burger wagon that was way too interesting. But he is getting very much more confident in his jumping, just need to get his focus more concentrated. He has also passed his Silver Good Citizens award.
Storm is still doing her agility, sadly she is slowing down but still manages to get clear rounds and the occasional place.
Finn has occasional moments of brilliance with her agility and many more moments of telling me I do things wrong, we still have managed to get to Grade 5.
Jack has taken to Rally and we have finally found some training, he now has his RL1 title and two qualifying scores toward his Level 2 title. He has continued with his PAT dog visits and is well loved by all his people. He also passed his Silver Good Citizens award.
Pepper - well Pepper is just Pepper, happy in her world, still very fit though

We still haven't moved into our house but it is getting nearer and I have asked that we can at least have the inside of the house to move in to by the end of August - fingers crossed
2014
November 2014
Yet again time has flown past and I haven't had a chance to do the updating of the website. We finally started work on the new house so hopefully we will be able to see a lot of progress over the next months. Meanwhile we have slowed down on the agility competition front but have had some fantastic training days which may just mean we will have some more success over the winter and into next year.
August 2014
Oh my, time has just flown by and I haven't updated the website (mea culpa). We have been very occupied with the new premises trying to get planning permission to build a new more eco-friendly house on the grounds and turning the paddocks into land that the dogs can run on, taking down some of the trees (we have rather a lot) to allow the rest to thrive and so it goes on. The dogs love the fact that there are many many rabbits to chase now and also a good selection of soft fruits to 'scrump' when they are in the paddock. We also have a full agility set of equipment in the garden now and try to do some training on it!
Apart from that we have been going to our agility training and competing most weekends, not doing too badly Finn has won into Grade 4 finally and Storm has got a second Grade 6 win toward Grade 7 (she needs 4). We had a lovely trip up to Lune show at the Westmoreland Country Park, Jack was entered into the Rally competition and, bless him, managed to achieve a qualifying score, we really ought to go and get some training!
Solo has turned into a lovely boy and is full of energy, the move has really helped him as he can now run, off lead, and is building his muscles up. He will, hopefully, start competing at agility over the winter at some small shows to see how he copes with it.


Otherwise Jack continues as a PAT dog visiting the elderly, who all love him. Pepper is now 11 and is slowly losing her sight because of the PRA, and also her hearing although sometimes when you see her you wouldn't believe it, she still loves her walks and makes her opinion about things very apparent.
I will try and update with more information and pictures shortly
Feruary 2014

This year has started with a house move to a place with 7 acres of ground for the dogs to play in. Unfortunately, so far (we are now in mid February), the weather has meant that the dogs have had a quick walk around the paddocks and then back inside. How can this rain continue? Our first project was to build the dogs a safe paddock to run in and we are now in the process of fencing off all the land so they can have full run of the 'garden' without going off and discovering all the sheep, deer, rabbits, pheasants etc that are in the surrounding fields. The next project is to build a new house replacing the existing one so the dogs are getting used to living in a barn and a caravan on a full time basis.
Otherwise Storm and Finn went out to their first competition the other day at the Dickson Dog Training/Fly By Agility show and came away with some lovely red and blue rosettes, very happy with their performance especially considering the fact that we have been unable to do any training since before Christmas. Solo went on a scent training workshop and apparently loved it proving to be a natural at finding bits of cheese hidden away in boxes. Jack and Pepper have carried on in their usual fashion, Pepper sadly getting older as the days go by hampered by her sight failing and her hearing too but she potters around happily in her own way, Jack continues to make visits as a PAT dog and is much loved by all those he visits.
2013
Harvey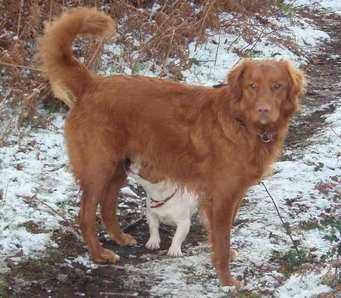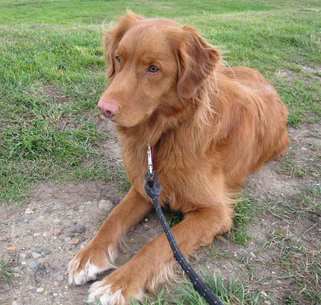 An important message for anyone who is out and about particularly in East Anglia - please keep your eyes and ears open for Harvey, he went missing at the beginning of December chasing pheasants and hasn't been found yet, his owner is absolutely distraught. As there have been very few sightings it may be that he has now found a 'home' that isn't his own, if you see an adult Toller that you haven't met before please check, he has a microchip and a tattoo in his ear.
Information can be found in the following places
There is also a short video where you can see pictures of Harvey before he went missing look for "Lost Toller Harvey" on you tube
July 2013 - Harvey is still missing, all his owner wants is for him to come home or at the very least know what has happened to him please can someone help her
SORRY - BEEN VERY BUSY AND AM CURRENTLY UPDATING THE WEBSITE - PLEASE KEEP CHECKING WHAT IS HAPPENING
July 2013
July started with us all being in the Lake District enjoying the countryside and also competing at an agility show that was spread over two weekends. We had such a lovely time that we hope to go back next year, not only that the girls did quite well at their agility and came home with one or two trophies and rosettes!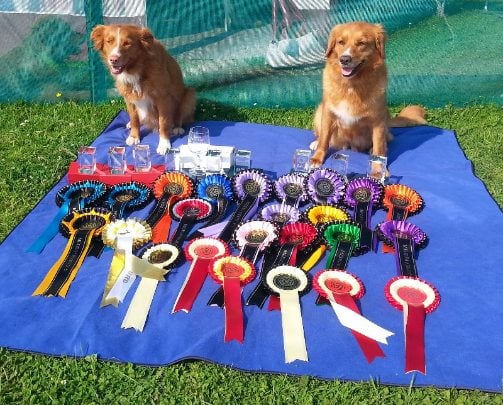 Particularly pleased with Storm as she managed to get 1st place in three more grade 5 classes that meant she added to her other win and is now Grade 6 for agility AND also qualified for her silver agility warrant - here are two of the first place rosettes, I like them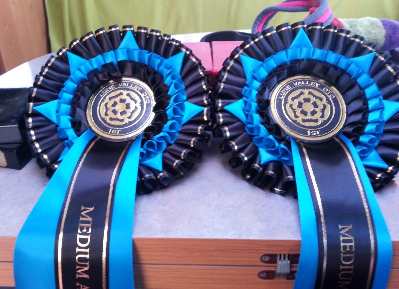 It was Solo's first longer experience in the motorhome, he seemed to be quite settled in it although it was a challenge at times stopping him chewing things he shouldn't, but he had a great time meeting lots of other dogs and playing with them in the exercise areas although watching him chase an Italian greyhound was a little worrying even if they did seem to be having fun as he must be 3 times the size, lots of people asking about his bells and why her wore them - simple so we know where he is. We also took the opportunity to have a wander round some bits of the lakes with the dogs in the lovely weather.
We tried to find the sea but it went away - Solo and Storm on the long trek and Solo exhausted sitting by a channel that lead out to the sea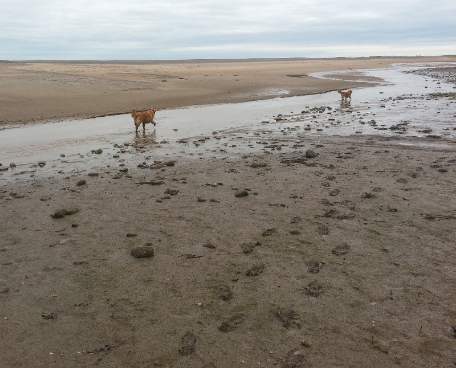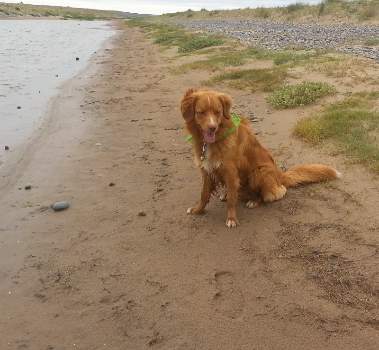 Poor Pepper broke one of her claws just before we went away so she had to spend a few hours in the vets having it removed right back to the pad - ouch it looked so sore, poor girl after having had two teeth out only a couple of weeks before due to infected gums she was not feeling too bright for a couple of days. Needless to say she did not compete at all during our competition days and I think she probably was happier for that so maybe the last couple of shows I have entered her in will be her swansongs and she can do what she like best, sleep and mooch around.
A couple of days home and then Storm, Finn and I took ourselves to Catton Hall for Rugby Agility Show where the girls continued to acquit themselves well gaining some places and clear rounds, Rugby is one of the bigger shows on the circuit so I was very pleased with their performance there.
June 2013
Happy 10th birthday to Pepper this month, my lovely girl getting older but just as quirky as ever.
A weekend spent competing at FAB shows, Dawn Weaver runs these, she is one of our top agility competitors and has created a new type of show, really enjoyable and lovely to join in, my girls did us proud particularly Finn who really enjoyed the quieter less frentic atmosphere.
We move into June and take part in yet more agility shows, it is very busy and sometimes hard work but enjoyable meeting up with friends most weekends. At Thames Agility Show we watched the lovely Pimms get her first two clear round, both in agility and she got a 1st and 5th place in her classes so has moved up to Grade 4 - Well done clever girl.
At Golden Valley, Storm got her first win at Grade 5, so proud of my little girl, two more needed to get to Grade 6, maybe by the end of the year but we need to work hard at achieving those. Finn and Pepper are also coming along, Pepper doing anysize or veterans rounds as that is all she can manage these days, Finn is still a work in progress and making baby errors - she will get there.
Jack and Solo continue to be much loved boys, Solo has been enjoying the obedience classes and his baby agility, wears him out! Jack enjoys coming out with us on occasion to agility shows where he can watch the world without having to take part. Solo also comes along to the shows as a visitor where people always comment on how good looking he is and how good he is, he proudly sports his Deaf Dog Network bandana and a lead sleeve warning people he is deaf. He took part in a display our dog club did the other week and was much admired.
May 2013
So it goes on, Andy went to Germany to the dambusters commemorations, I took myself to another agility show where Storm qualified for the Dog Vegas Final in July, what a clever girl she is, so far the weather has been kind too lets hope it continues for the rest of the agility season as we are out most weekends competing.
Happy Birthday to Storm's second litter 4 years old on May 5th, now that time has flown by so Happy Birthday to Ryley, Finn, Digby, Henry, TJ and Tova such a lovely litter of dogs.
Two shows in one weekend, now that was tiring but another opportunity to see old friends and enjoy being outside with my dogs.
April 2013
Yet more agility over the weekends, I think that we are going to have a lot more activity on that front over the coming months. Storm has been competing and doing me proud with the majority of faults being gained by my indecision rather than her going wrong, we are always hopeful that the right course will come along for us to win a lovely red rosette and start our journey to grade 6.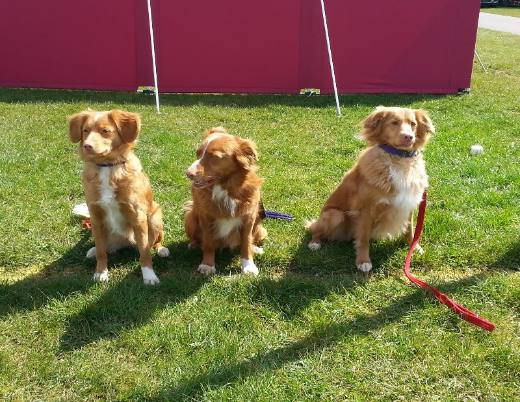 Pimms, Storm and Tova at Wallingford Agility show. Storm is very proud of her two girls who are just starting on their agility career and doing some fantastic work even getting rosettes.
Solo continues to grow and is a lovely boy, he has been out and about with us to agility shows, group walks and continues with his obedience classes, nothing seems to phase him and he takes it all in his stride. Here he is, just about fully grown now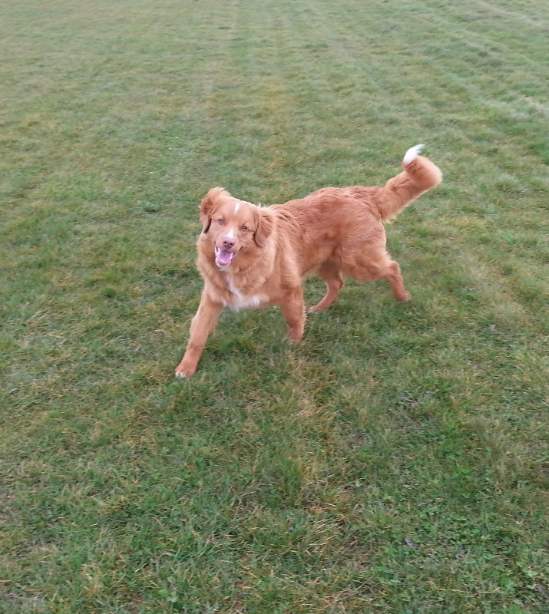 April 15th and the second birthday of Storm's second litter, how fast time flies. Happy Birthday to Rufus, Boudica, Buan, Ginger and Pimms, I know you make all your human families so very happy.
We got the news from NewZealand that the Hungarian Wire Haired Viszla we had looked after for a few weeks gave birth overnight 15th April to 9 beautiful puppies, congratulations Barcutan Wire Haired Viszlas and Nusa.
Another weekend, another show, this time our club show which included the inter-club league finals, Storm had been taking part in the team but unfortunately was not able to take part in the final due to a few muscle strains that were causing her problems and had slowed her right down so she was on a rest break, our club won the league this year, first time in many years. Finn and Pepper competed in the general agility rounds, Finn getting a second place rosette for running in 'topsy turvy pairs' where she had two different handlers, she was one of the few dogs that managed to cope with that. After that run Finn decided that she was not happy with the amount of rain and mud and slowed down to a crawl so she didn't do all her runs that day. Pepper, contrary madam that she is, enjoyed running in the mud and did a lovely fast run in her anysize class
April already, eventually the snow will disappear from the hills we can see to the back of our house. Easter weekend was spent at a 4 day agility show in the motorhome, it was cold! The girls did some good work but we were all a bit rusty so didn't have any spectacular results a few clear rounds, although Finn achieved a 2nd place in one of her jumping classes. We heard that Tova (Finn's sister) had a good weekend and collected a couple of rosettes with numbers on at the show she went to. The following weekend we went to another agility show where again we were rusty and only came away with clear round rosettes but both girls did some splendid work. I took Solo with me and he just lapped up all the attention and behaved really well, it was also a lovely sunny day which made such a difference, lets hope that is a forerunner for the rest of the season.

March 2013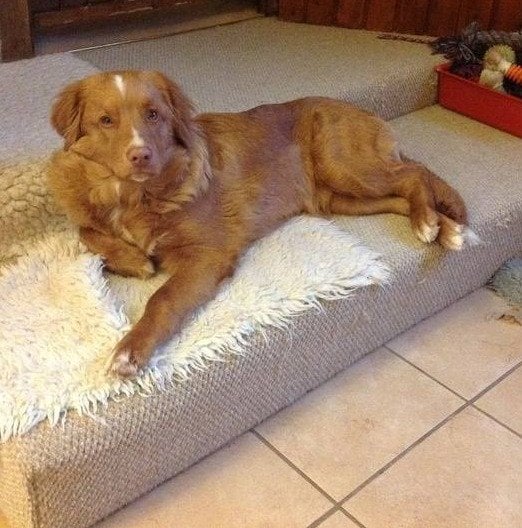 Can you believe that this lad is now 6 months? He is growing into a very happy, healthy, handsome chap. He is still very much a puppy but is learning his manners and is progressing well in everything we teach him.
Pimms didn't make it past the cut at Crufts, never mind she did really well to get there and there was some very tough competition. Like her mother and sister she is sticking mainly to agility now, all superstars to be on the agility circuit, lets hope the weather does not let us down this year and we can enjoy the competitions without bad weather.
Another year another Crufts, this year we aren't showing but Pimms is going to represent the Tollpepper Tollers, very good luck to her I am sure the judge will love her. Finn had a show on March 2nd but really was not a happy girl so not entering her for Crufts was probably a good move. We will stick to the agility in the future which she is much happier doing. Solo got to meet his daddy and some other Tollers today, what a good boy he was.
February 2013

First Agility show of the year this month, I took the three girls to the Gundog Agility Show, it is a lovely show and we always have a good time there. Storm was competing at grade 5 here and the courses were extremely tricky so we managed not to do very well at the agility but she did the jumping with a different handler and got a 5th place which I am very proud of as it was a hard course. Finn was a star, running in elementary here, and got her first rosettes for clear rounds, in time, one of which gave her a first place in jumping, so proud of her getting over her nerves must be getting there with the agility. Pepper ran in veterans agility and jumping but I am afraid that her failing sight told against her so I will have to be careful what courses I run her over, she really enjoys the jumping but a tunnel that was too curved for her meant she couldn't see the light to follow her way out and the dog walk was just too much for her to cope with so no more contact equipment for her I fear.
Solo is now overtaking his granny and mummy in size and has weighed in at a hefty 16.25kgs, he is definitely going to be full size when he finishes growing. Jack is just Jack enjoying his life and being a much loved PAT dog when we go out visiting.
Another weekend another show, this time Prestbury Park Charity Show, goodness me it was cold and kept trying to snow. I took Finn and Storm this time and they had a reasonable weekend with Storm getting 2 x second places and 1 x first place in her classes and Finn getting a clear round. Poor girls had some terrible pilot errors from me but we had a lovely time at this show.
January 2013
Finally I have some pictures of the little man, thanks to Marie Douglas who has been looking after him for us while we are away, here he is enjoying the snow in Wales on his own and with his best mate Teddy, the sheltie puppy, I just love that picture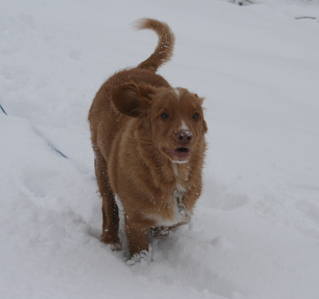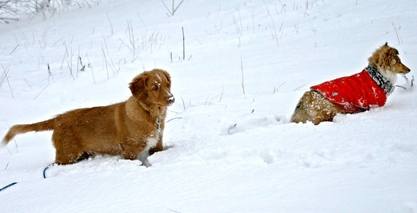 Our little man Solo is growing like an absolute weed, he is now 16 weeks old, he went to the vets for his microchip and didn't take any notice of what was happening, he weighed in at a massive 13.95kgs. He has started at puppy classes and was a star pupil. We have been talking to people about how to teach him as unfortunately he was born deaf, this is something that is completely unexpected in the breed and is, we believe, the result of an inter-uterine infection which explains the other problems we had with the birth and loss of puppies. So we have a completely unique little boy in so many ways, and still can't get a sensible picture of our handsome boy.
I cannot believe that it is already the New Year, I hope you all have a wonderful year and that only good things happen for you this year.

We have been very involved with our little man, Solo, who could believe that just one puppy can occupy so much time? He has now had his final jabs so in the next week or so he will start going out and about which will be brilliant and hopefully use up some of the surplus energy he has at the moment. He spent his Christmas staying with some friends who also have a singleton puppy, so good for them both to have company of the same age instead of relying just on the older dogs who can find puppies quite annoying. He hasn't slowed down though and we still struggle to get a picture of him when he is still, unless he is sound asleep! He is growing like a weed and turning into a very handsome little man.

As for the other dogs, Storm turned 7 over Christmas, how time flies it only seems like yesterday that we were talking to her breeder about having her. Pepper is slowly losing her sight, how bad we do not know but she seems to manage very well only occasionally you realise that she may have struggled to see something, fingers crossed that she continues to retain some sight for a few more years meanwhile she will continue to do the small amounts of agility she does and visit the hospital as a PAT dog for as long as she is happy to do so. Jack, well Jack is Jack he goes along in his own way, his PAT dog visits are very much appreciated by the people he meets. Finn is recovering from having her babies although I have never seen her with so little coat, she has gone back to her agility training but we have quite a lot of ground to make up having been on maternity leave since July.

So 2013 what does it hold for the dogs, I suspect a lot more agility for the girls, Solo will learn his manners and hopefully take his Kennel Club Good Citizens tests, who knows maybe he will get his Gold award. We wont be going to Crufts this year and I doubt we will do many breed shows for now, can't do everything.

2012
December 2012

Time has flown by and Solo is nearly 10 weeks old now, he is one handsome chap I have to say and is growing beautifully, he will start his puppy classes after Christmas, is the world ready for this little man? He was visited by his aunties Star (Storm's sister) and Tova (Finn's sister) both of whom are looking really great, Tova will be starting her agility competing next year and is, I am told, going to be a star like her mummy. Looking forward to seeing her competing along with Pimms and Finn in 2014.
October 2012
Time is moving on so fast with our little man, he is 4 weeks old now and growing really well. He seems to be a happy puppy even though he is on his own but he has a lot of toys to play with and soon will be able to hold his own with the other dogs so can play out of his pen sometimes.
Looks like he may be trouble though, thank you to Sam Rice for the pictures she took today.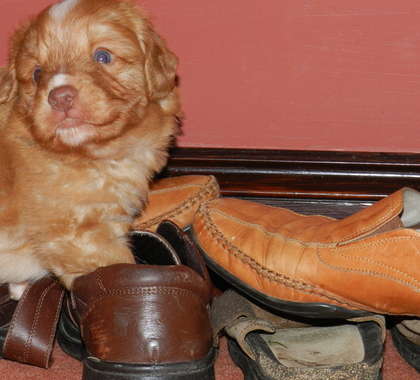 A lovely day at BHC on 21st with Storm and Pepper competing at agility, for a change, we came home with rosettes for clear rounds this time.
Solo is two weeks old now and has grown so much (see litters page). He is very mobile and after a tough few days with Finn settling in to her role as a mother things are going very well. We can hope it continues that way.
Disappointingly the weather resulted in Chippenham agility show being cancelled so apart form a lot of training for Storm and me our next competition is not until October 21st, fingers crossed it doesn't get cancelled.
September 2012
Finn finally decided to give birth on the 26th after a very restless and hard two days. Sadly she only had two puppies, one of which was still-born, we do have a beautiful boy to love and enjoy. Fingers crossed that all goes well for him - more information about this baby can be found on our litters page.
Bromsgrove agility show and a weekend of nearly's : we nearly got a clear round on the Saturday and nearly got in course time on Sunday, that's the way agility goes. Finn is now just about ready to give birth so we are watching and waiting anytime now, her due date is the 26th.
Our first weekend this month was spent at Prestbury Park's agility show - not our finest hour Storm and Pepper came out with me, we managed 4 clear round rosettes which is good but compared to the previous weekend ..... enough said. Jack and Finn stayed at home as he doesn't compete and it would be foolish to take Finn to an environment filled with dogs when she is in whelp, you just do not know what infections there are around so easier to avoid them. Finn meanwhile is rounding out in front of our eyes, fingers crossed it all goes well.
August 2012
Wow we have had a good week, firstly our kitchen is almost finished and we have nearly got everything back where it should be, just in time for the dogs to settle before we have puppies, YES Finn is confirmed as being in whelp so if all goes according to plan we should have puppies at the end of September. She was mated to Erikachen Ruari for Aftonmarsh he is a lovely boy that we have known almost since he was born.
Here is his picture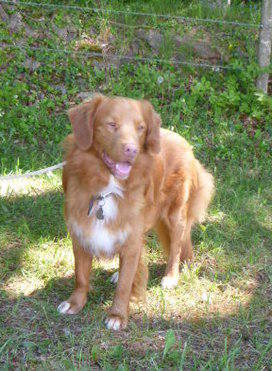 and here is a muddy picture of Finn taken a couple weeks ago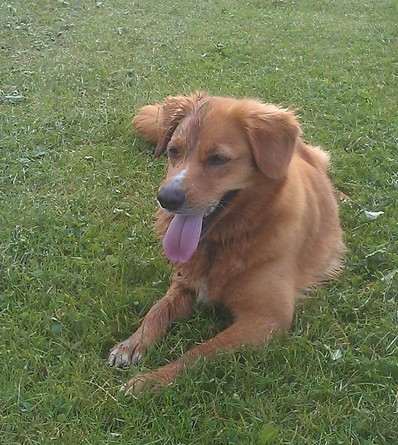 Over the bank holiday weekend we went to an agility show and Storm was back to her usual form of managing to get clear rounds all the time - must be the sunshine. In fact she was such a little star that she came home with a good collection of rosettes and trophies, including a first place in Agility so she has now moved up to Grade 5, where things get very serious in the competition world so we will really have to work hard and get faster, she also got a second place in a national competition (we will try to get to the final in October) and another second in a jumping round. Here she is showing off her rosettes and trophies. We are so very lucky to have this girl.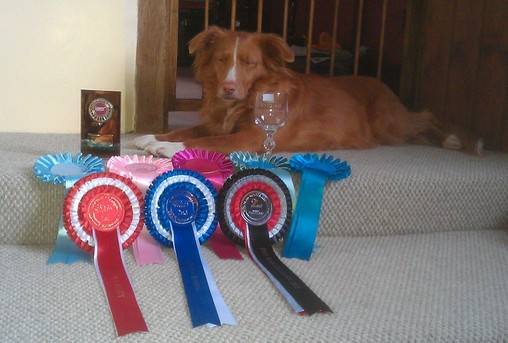 Been very quiet here finishing the kitchen and having visitors has taken a lot of our time, we are also delighted to say that Finn finally came into season and now we are waiting to see if she is going to have puppies, the waiting is agonising as you cannot have a scan done for a few weeks so you just do not know - fingers are very crossed here so watch this space.
July 2012
Still in disarray here because of the kitchen refurbishment, the dogs (and us) cannot wait for things to get back to normal and at every opportunity go in to the kitchen and adopt their normal sleeping positions, despite the distinct lack of beds, flooring etc etc. In the meantime Jack has had his last injection for his bad hips, now we wait and see how well it works to reduce the discomfort for him - so far so good. Caerphilly agility weekend and Storm went off with some friends who kindly ran her in all the rounds I had entered her in - now I have to learn to run a lot faster she absolutely flew round for them and managed to get herself a clear round and a 5th place in a big jumping class what a good girl she is, looking forward to having some fun with her although because she was being pushed a lot harder she made some mistakes - work in progress I think. I managed to get there for the Sunday and ran Pepper in her anysize class and got her another clear round rosette to add to her collection. We had my niece here for a week and the dogs have played with her all the time, thank goodness they can behave well as they must have been absolutely exhausted with the amount of 'training' they got.
We have been having a quiet time of it for the last couple of weeks, the kitchen refurbishment has been taking up a lot of our time so apart from doing some work as Pets as Therapy dogs we have been pretty much home based trying to stay dry. Poor Pepper had a lump appear in her mouth, thankfully it was just that, a lump, but had been making her mouth uncomfortable so it was removed along with a couple of teeth that were wearing out. She is much better for the treatment and has stopped waking us up at a very early hour in the mornings, maybe, poor thing, she had toothache?
June 2012
What a wet month June has turned out to be. We spent the last weekend at a show on Bath Racecourse where it just did not seem to stop raining, it just felt that the mud was going to take over. Thankfully the show managed to organise three huge tractors to help people get on and off the site through the weekend or we could still be there! It was not a brilliant weekend for us on the results front, Storm managed to get a clear round and a 3rd place on the Sunday, Finn ended up refusing to go into the tunnels as there was just so much water and mud in them, poor girl she tries so hard but sometimes it just does not come together for her, and Jack escaped and 'helped' another dog run round the ring - not ideal really. We did see Storm's sister Star and Finn's sister Tova as well as the gorgeous Pimms during the weekend, a bright spot in and otherwise rainy weekend. Looking forward to a sunny July.
Another weekend another show, this time our own Dog Club's main summer agility show, it is a very busy weekend but we still managed to do some agility runs, not the most successful we have ever been but in 14 runs between the girls we managed 3 clear rounds which gave us 3 rosettes, 6 clear rounds but with time faults (really must learn to run faster), 4 rounds where we had jumping faults and only 1 elimination so although not spectacular they were not too bad considering how busy I was. Meanwhile at home the kitchen was being stripped out by Andy in preparation for a completely new one, to say the dogs are confused by being allowed into the wrong bits of the house is an understatement.
Poor Jack has been suffering from his bad hip recently so was X-rayed to have a look and see if there was much deterioration in it. There has been some deterioration so he is now being prescribed a product called Cartrophen Vet which is a relatively new treatment for arthritis in dogs and is supposed to help improve the underlying disease - fingers crossed that it helps him.
May 2012
Jubilee Bank Holiday weekend, what a pity the weather was not the best, but it looked as if everyone enjoyed themselves, congratulations to the Queen for a remarkable 60 years on the throne.
Finn and I went to Southern Counties Champ Show on the Friday and she was placed 2nd and 3rd in her classes so happy about that and yet again we had a lovely time chatting to friends, the weather was kind to us while we were there, such a change from the last time we were at this particular show ground where we got totally soaked. On the Sunday Storm, Jack and I went to help the old people's home that we visit as PAT dogs celebrate the jubilee, it managed to stay relatively dry for all the activities in the garden which was a relief. I think everyone enjoyed themselves and certainly Jack and Storm were welcomed with lots of pats and cuddles.
A trip to Bath Championship show at the weekend where we had a lovely time meeting old friends and making some new ones. A lovely surprise was to see Ryley and Rufus there who got placed 3rd and 2nd in their respective classes, Finn was also placed third which has qualified her for Crufts 2013. It was a very warm day so a good thing that we were first in the ring and finished nice and early, plenty of time for shopping and ice creams.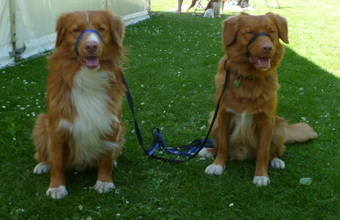 Ryley and Rufus looking very handsome here
Storm received her certificate from the Kennel Club so we are thrilled that she now officially has letters after her name. We followed that with another day of agility at Worcester's agility show where things did not go quite to plan and Storm had a handler that let her down in the agility but she did get a 4th place in one of her jumping rounds and a clear round in the other. Pepper got a clear round in her anysize jumping. Finn was less sure of herself this weekend and whilst she did well she did not get any rosettes but has reduced the time she takes to get round a jumping course which is fantastic. Onward and upward with her training and one day she will beat her mother.
We also saw the beautiful Pimms there and had a lot of Toller kisses from her, she is much admired by everyone and is going to make her (human) mummy very proud of her when she starts competing at agility, I think she may be quite good.
First agility show this month and we spent the weekend at Top Barn in Worcester for Dordale's open show. It was quite a good weekend, to start with it didn't rain, with Storm collecting a good collection of rosettes and winning an agility class which means that she has now reached grade 4 and acquired enough points for her Bronze Agility Warrant - what a clever girl she is. Just waiting for the confirmation from the Kennel Club and then she will be Lightning Storm of Tollpepper AW(B). Finn got her first ever rosette for agility too this weekend, she went clear round an agility course which is a surprise because she is not fond of the seesaw, I don't think she realised she was on it if I am honest, judging by her reaction to coming off it! She did not get round within the course time but was one of the few dogs that was not eliminated on the course so came 5th even with the time faults. I am so proud of both these girls and what they are achieving.
Here are the girls with their rosettes from the weekend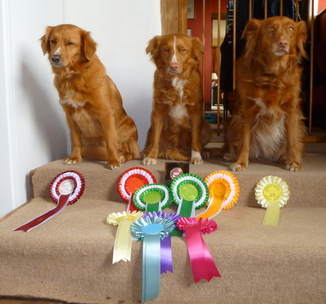 A recent picture of Buan (Tollpepper Majik's Pride) relaxing on a walk - what a handsome boy he is too!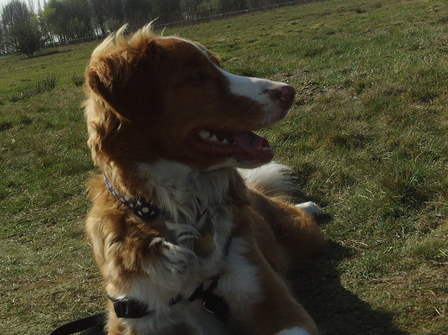 and a picture of the gorgeous Ginger (Tollpepper Kinta's Princess) when she came to visit us in March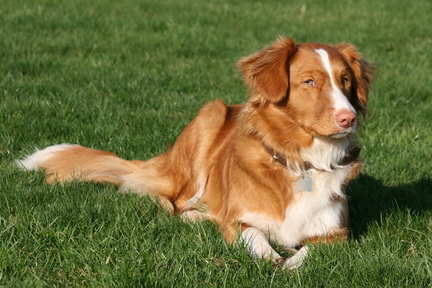 hard to believe that this litter is a year old already!
April 2012 - Another weekend, another agility show - this time WBSDS and it rained and rained and rained. What a contrast from last week when we had a long weekend in Spain! Anyway back to the agility, we all got totally soaked and frozen, the ground we competed on got so waterlogged that the second day was called off, we didn't have the most spectacular of days on the first day and Storm ended up achieving a clear round in jumping, anything else we will put down to the weather and practising in the ring (not one of our more successful competitions).
Easter Weekend - A very busy weekend at TAG agility this weekend, Pepper, Storm and Finn were all competing at agility and we had some mixed results too. We started off on a high when Storm won her jumping class, she then went on to get another 5 clear rounds and a 2nd in jumping, nearly always being one place out of the rosettes - the trouble with being in a size where the classes are not going to be huge. Pepper competed in anysize and managed to get clear round rosettes in all of her classes. Finn improved steadily over the weekend and went from being eliminated to getting faulted rounds and so nearly managed a clear round, she is getting there and we are looking forward to some good things with her agility and jumping. All in all it could be considered a successful weekend for the Tollpepper girls.
Here are Storm and Pepper with their rosettes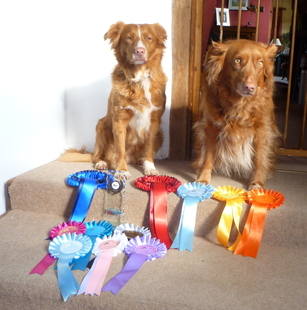 1 April 2012 - Finn and I went off to Chippenham Open Show and met up with lots of our Toller friends for a lovely friendly show, Finn got 3rd in her class and we were delighted to see Gunner (Erikachen Aonghus) and Quiver (Erikachen Caoimhin) win group places, what a thrill for Heather Gibson as their breeder and Marie Baker and Jan Andrews as their owners.
31 March 2012 - Wye Valley small/medium agility show for us this weekend so Storm and Finn were entered for competition, Storm ended up with a clear round for her agility but we didn't really shine this weekend, need to speed up a bit I think.
Here is a picture of the Tollpepper dogs at Crufts, we did our best to get them to stay still, they are Ryley, TJ, Finn, Pimms, Boudica and Rufus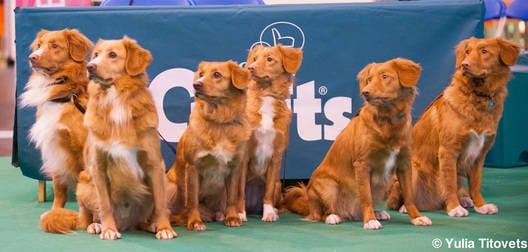 14 March 2012 - Crufts has been and gone and what a wonderful day it was for us. There were six of the puppies there this year and all of them came away with a piece of card indicating that they had been placed.
Tollpepper Majik's Thunder - Rufus came 2nd in the puppy dog class
Tollpepper Taranto - Ryley came 2nd in post graduate dog class
Tollpepper Tannas at Danehaven - TJ got the reserve in post graduate dog class
Tollpepper Kinta's Mischief - Pimms came 3rd in the puppy bitch class
Tollpepper Kinta's Fire - Boudica got the reserve in the puppy bitch class
Tollpepper Tartu - Finn got VHC in both postgraduate bitch and good citizens bitch classes
We are so proud of these babies and extremely pleased for all their owners, congratulations to them all. As for a picture, we tried and I will put one on here as soon as I can, but trying to get all six of them sitting still together, that is not an easy task.
27 February 2012 - A very busy weekend this time with two agility shows to attend, Golden Valley held a new open show on Saturday which was a huge success, Storm ran her two runs and managed to get clear rounds in both of them. On Sunday we went to the Gundog Agility show where all three girls had a chance to run, Pepper ran in the Veteran classes and happily got two clear rounds, Finn ran in the Casual classes and managed to do rather more jumps than she should have, but had a big happy face on all the time, one day she will manage a round without getting herself eliminated. Storm ran 5 rounds and got clears in all of them, at this show you get the opportunity to run the agility and jumping courses twice, the best result is the one that counts, so she ended up with 3 rosettes at then end. Strangely for a rare breed both shows had a good entry of Tollers, there were about 10 at each show (I suppose it helps that we take 4 of them). So all in all we took home 7 rosettes from the weekend and were so nearly in the placings in most of the classes but small classes mean less places. We all slept very well after all that.
19 February 2012 - What a fantastic day we had today, the last in the Dickson agility competitions held at Prestbury Park's charity show. Finn managed her first round without being eliminated, she had faults but what a superstar she was today. Storm excelled herself, if you go to her page you can see a picture of the trophies she has won from this series, I am so pleased with her performance let's hope this continues during the year and she does well at the 'big' competitions that start next weekend.
12 February 2012 - We have been concentrating on our agility training and despite the weather we have managed to do some most weeks and are improving all the time. We met up with some friends for a lovely walk in Crickley Park, we had some of our friends new puppies out with us too and a lovely older rescue Toller who took herself for a jump off a very large rock, thankfully unhurt but it was fun trying to get her back up to where we were as she didn't want to climb through the brambles.
We also went for a week's skiing in Austria to the area we were when we heard about Storm and arranged to buy her, happy memories.
Now we are looking forward to agility competitions and Crufts - how will we do, can we expect to come home with some nice placings? Time will tell.
16 January 2012 - At the weekend we went to Cheltenham to take part in the third of the Dickson Winter Agility Series and had a lovely day, Storm has now recovered from her spay so she competed and managed to get a Red rosette for one of her jumping rounds and a clear round rosette for one of her agility rounds, the least said about the other two the better! Pepper took part again and once more was quite unique in her approach to the large jumps so after trying to get her round twice I decided that she could jump NFC over the medium jumps which suited her much better and she had a lot more fun, maybe she just can't see the higher jumps, who knows but in fairness to her (and me) she will jump in anysize or veteran classes if they are offered from now on. I entered Finn in the two jumping rounds at the show and bless her she had such fun, she was eliminated in both rounds but I was very happy with her attitude to it all, even the pieces of equipment that she had never seen before, as she was happy to try - not bad for her first competition. I am looking forward to the future with her and her agility career.
1 January 2012 - A very Happy New Year to everyone, I hope that it is a successful and happy one for everyone.
We saw the New Year in fine style at home with friends. A review of the year shows that Storm produced her second (and last) litter of beautiful puppies, 3 of which qualified for Crufts 2012 which makes us very proud. Once she had recovered from having the puppies she started competing once again at agility and has brought home some lovely trophies for her efforts only being hampered by her handler. Finn has been out and about at championship shows and has had some good results and some not so good results but she, along with two of her brothers, also qualified for Crufts 2012, it will be lovely to have so many of our puppies there and makes us very proud that they have achieved this honour. Finn will probably not do many shows this year but along with Storm will concentrate on her agility career which is only just starting, who knows what will happen but it will be exciting to find out, a big thank you to Marie Douglas, our trainer, who has been very patient with us.
Pepper and Jack have spent the last year being Pets as Therapy Dogs and are much loved by the people they visit, it is fantastic to watch the effect they both have on people merely by being there.
Pepper has also been out and about competing at agility, in her own fashion, she has brought home some rosettes. If we are honest with ourselves she enjoys agility on her own terms and that doesn't always include jumping at her correct height or even over the jumps - but she always brings a smile to your face since you never know what might happen. This summer and autumn Jack has been out with Andy when has gone to the shoot to feed and check on the birds, unfortunately because of his hips he can not work as a gundog but he enjoys his time out when he goes down to the shoot. He is a lovely kind dog who is a pleasure to own.
There was one sad note when we lost our girl Poppy in June, she had been battling with cancer for quite some time and lost her battle with that. We still miss her very much but know she is running free and out of the pain she was in.
We look forward to a good 2012, a lot of fun with our dogs and hopefully a new puppy at the end of the year when we have a litter from Finn in the autumn if things go according to plan and we find the right dog for her.
2011
14 December 2011 - Goodness I hadn't realised that time had passed so quickly must have been a bit busy. I managed to squeeze in a visit to see the Tollerice puppies, what lovely babies they are Sam and Peter have every right to be proud of them, they have all left for their new homes and are growing up beautifully.
The shooting season is well under way and Storm has been out beating with Andy, something she loves doing (a bit too much at times) but it is what is in her nature so you can't complain.
Pepper and Jack have been out being PAT dogs all year and are much loved by the people they visit, some of whom are very sick and quite often only communicate with the dogs. Pepper particularly gets some very positive reactions from the people she visits in the acute mental health unit.
It has been lovely having Ginger and Boudica living locally to us as we see them at their obedience training lessons, Boudica passed her puppy foundation course so is now doing some puppy agility to see if she enjoys it - somehow I think she does judging by the noise she makes when waiting - she is going to be a great agility dog. Ginger will hopefully start after Christmas when she has finished her puppy course.
Storm had a fantastic training session with Natasha Wise, one of the county's best agility competitors, and went on to win two of her classes at BHC limit. Good girl Storm - here she is with her trophies and rosettes.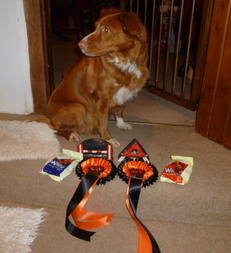 Finn went to LKA this month - we got a VHC in post graduate and a 1st in good citizens - thank you Marie for taking her in the ring she really looked lovely and so happy with you. We also saw Ryley (who got a 2nd in PG Dog), Rufus who came 4th in puppy dog and Pimms who came 1st in minor puppy bitch - so lovely to see how beautifully they are all growing up, their owners are doing a great job with them all.
Now we are waiting for Christmas and the dogs are looking forward to opening their secret santa presents.
28 October 2011 - Midland Counties Championship Show and the show debut for Rufus, Boudica and Pimms and what a debut. Rufus came 2nd in his puppy dog class, Boudica and Pimms got 1st and 2nd in their puppy bitch class respectively and Boudica went on to win Best Puppy. Ryley and Finn also came out and Ryley won his second Reserve Best Dog. Finn got reserve in her class but we think she probably would rather be doing agility these days so will retire her next year from doing very much showing.
What a fantastic day we had though and what a marvellous result for the Tollpepper babies six are now qualified for Crufts 2012.
22 October 2011 - took Storm and Pepper to an agility show (a lovely small show run by Dickson Dog Training as part of their winter agility series), Pepper was a lot more motivated to jump but still managed to achieve only one round where she didn't actually get eliminated. Storm did her usual sterling job and got four first places, what a star my little girl is, hopefully Finn will follow in her footsteps.
16 October 2011 - out with Pepper and Storm at BHC agility, what a change from last year - we were able to see across the rings and there was no frost on the equipment, in fact we all ended up in T-Shirts it was so warm. Pepper had a good run in anysize jumping, hampered yet again by her handler who forgot one of the jumps, cost her a clear round. Storm did 4 rounds and ended up with a second place in agility and two clear rounds so she is well on the way in collecting her points for her bronze agility warrant, hopefully she will have that by next year.
8 October 2011 - another agility competition with Pepper and another day filled with the kind of fun that only Pepper can produce, 4 rounds and in only one round did she not get eliminated, Oh Pepper! you really know how to make me work for you. Looking forward to the next competition.
Boudica, we learn has passed her Puppy foundation course in Kennel Club Good Citizens today - well done to her.
4 October 2011 - Been a reasonably quiet September, Finn went to City of Birmingham Champ show where she decided that she really didn't want to be, so we ended up with the reserve in our class, never mind she can have off days.
Pepper accompanied me to Chippenham agility show on her own as the other girls were in season and performed in a way that only Pepper can, she just managed to get herself round the agility course but got eliminated for her general inability to want to do the jumps and in the jumping round she wouldn't even go over the first jump so we didn't even try the course, never mind it was an unusually warm day for the beginning of October nevertheless we had a lovely day out meeting old friends and having a lovely cuddle with Pimms who is growing into such a beautiful little girl and is fitting into her family so well.
28 August 2011 - We have spent the weekend at Dordale Agility show - thank you to the organisers for a lovely show - this is the first KC agility competition we been to since last year because of the puppies. Storm and Pepper were competing and had a fantastic time. Storm achieved a 1st in agility, a 2nd in jumping, a 3rd in agility and jumping and 3 clear rounds, not bad for a dog that had puppies not too long ago. Pepper got a clear round in any size jumping and had a great deal of fun in her second round where we managed to go the wrong way.
22 August 2011 - We had a lovely weekend looking after Boudica, what a lovely girl she is growing up to be. On 21 August Finn and I went to WKC Champ show and she decided that anything her brothers can do so could she, she showed her socks off and
Finn won Reserve Best Bitch
we are so proud of her.
14 August 2011 - We have had a couple of trips out to shows this week, National Gundog and United Retriever where Finn got a 2nd place and a 1st place, very pleased with my girl. Today we went out for a lovely walk with the family that have Boudica, she is growing up so beautifully and has such a lovely character.
Here she is running toward me, hard not to get a blurred picture of her she moves so fast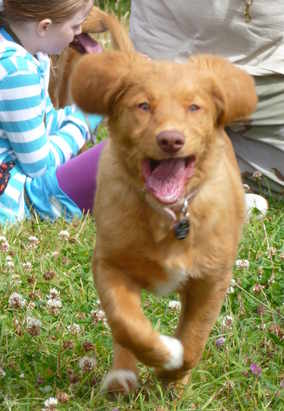 4 August 2011 - Goodness the time has passed by so quickly, we managed a few days by the seaside and spent them' just chilling' as they say, the dogs all slept and sunbathed, things they are expert at. A minor brag this week, Jack, the 2011 puppies father, got Reserve Best Dog at Paignton Champ Show this week - well done Jack.
8 July 2011 - Another champ show today (East of England) but not one we attended, however TJ went and got 1st place in his AVNSC Post Graduate Class and then
TJ won Reserve Best Dog
in AVNSC Gundog, not a little bit pleased here - a whole lot pleased well done Christine and TJ. Here is the lovely TJ, thank you Yulia for the picture, he says that whatever his brother can do so can he!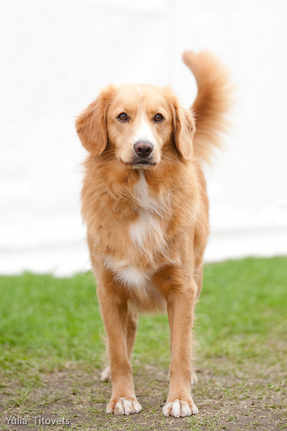 2 July 2011 - We had a day out at Windsor Championship show and what a fantastic day it proved to be, not only were Ryley and TJ there as well as Finn, Ryley and TJ both went on to qualify for Crufts by being placed 1st and 3rd in their Post-Graduate class and then to top it all
Ryley won Reserve Best Dog
in the breed class, to say we are over the moon is an understatement - well done Ryley and Chris (his owner and handler). Here he is showing off his rosette.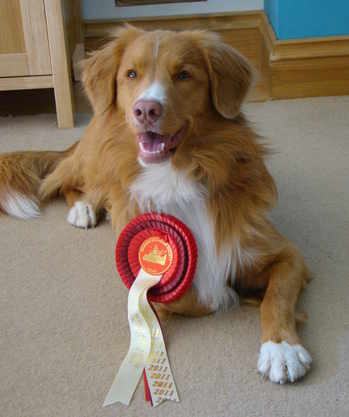 28 June 2011 - It has been a strange time, the house seems so much quieter without Poppy, we miss her very much, and also the puppies have all gone making it a very peaceful household.
At the weekend we went to Kingstone Sports Field for a fun weekend of agility, obedience and a dog show - we got a lovely selection of rosettes and one trophy for our efforts so thank you to the organisers, it was just what we needed to cheer us all up. Ginger also came along for a visit and a bit of socialisation - she is going to be a heartbreaker, such a pretty girl.
19 June 2011 - Today we made one of the hardest decisions that you have to make as a dog owner and had our beautiful girl Poppy put to sleep, she was at home with us and we held her as she fell asleep for the last time. A very sad thing to have to do but kindest for her as she was in a lot of pain and discomfort. Sleep well my darling girl.
14 June 2011 - Pimms was the last of the babies to leave us, the house is now very quiet and peace reigns once more - we are missing them already but they are going to be very happy with their new families (once they settle down and stop eating everything that they find on the floor).
11 June 2011 - The puppies are starting to leave us now, Rufus and Boudica have safely gone to their new homes, Buan leaves us tomorrow, Ginger and Pimms on Monday and Tuesday, it will be so quiet here but I know they will have wonderful lives in their new homes. We cannot wait to see them grow up and be winners in whatever they do. Keep your eyes out for them when you are at agility shows, obedience shows or even at Crufts (we can always dream).
Good luck to our second litter in everything you do, you have been a joy to look after.
We had a photo session so here are some pictures of the babies, 7 weeks old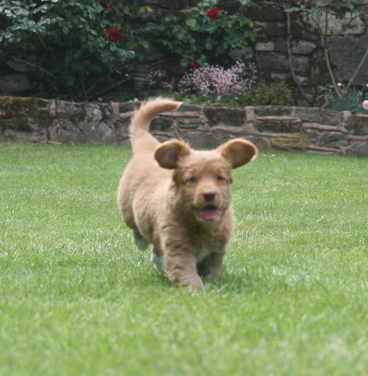 Boudica - Tollpepper Kinta's Fire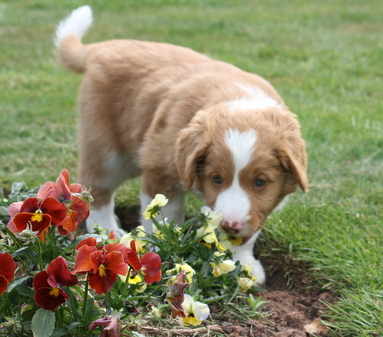 Buan - Tollpepper Majik's Pride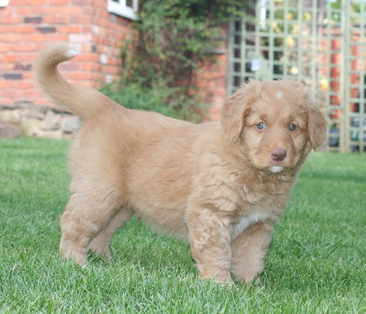 Rufus - Tollpepper Majik's Thunder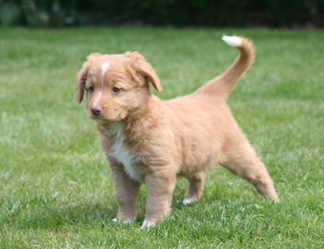 Pimms - Tollpepper Kinta's Mischief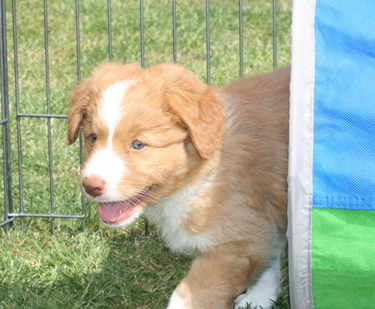 Ginger - Tollpepper Kinta's Princess
21 May 2011 - Finally the weather was kind enough to allow us to put the puppies in the garden for a short time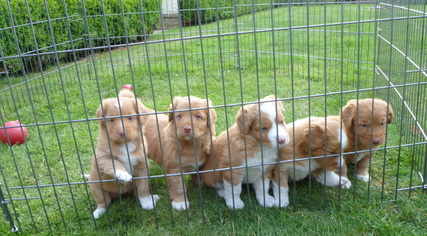 It is sad to think that they will be leaving us in a few short weeks now, they have been such fun and are keeping us very busy. The girls have taught themselves how to escape from wherever we put them, their walls are getting ever higher and their climbing abilities are improving all the time, how long before they can climb out of the bigger pens?
18 May 2011 - these puppies grow so quickly, hard to believe they are nearly 5 weeks old, we now have them in a puppy pen during the day where they make as much mischief as they can, fortunately they still sleep for long periods of time once they have had a good play. I hope the weather improves so we can get these babies out in the garden to explore more of their world.
2 May 2011 - I said we were in for fun once they started walking, today they made a bid for freedom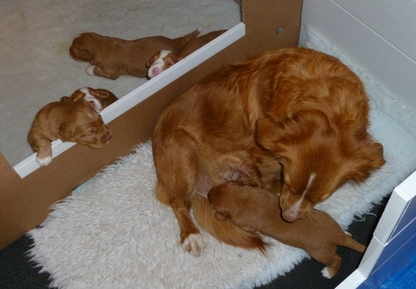 Girl 3 was the first one to manage to climb out and later girl 2 followed her lead, now we have changed things round so they are in the bigger white box and the cardboard one has been removed, let's hope they stay contained here for a little longer and we don't find them wandering around the kitchen. These are certainly active babies.
28 April 2011 - The puppies are growing really well now and have opened their eyes, soon they will be walking properly and then the fun begins!
15 April 2011 - After a very long day and night Storm gave birth to 5 beautiful babies, as you can see she likes to keep her babies safe in a newspaper nest for the first few days. The puppies are 3 days old here.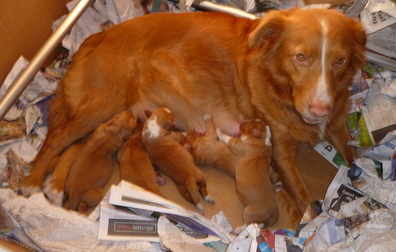 The house is now on standby for the imminent arrival of a new litter of puppies, Storm is going to be the proud mother, I will add far more information once they are born - we are very excited. Here is a picture of her with about 10 days to go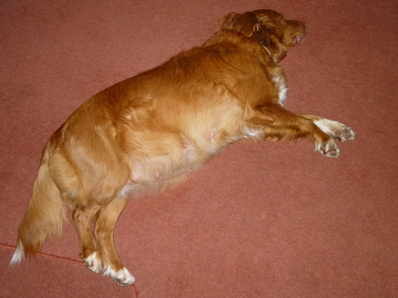 Agility
We went to Golden Valley for their 2010 Agility Open Show in the summer and managed to compete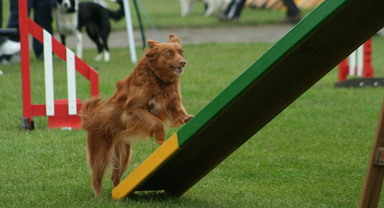 Pepper starting on the dog walk - she enjoys it all really!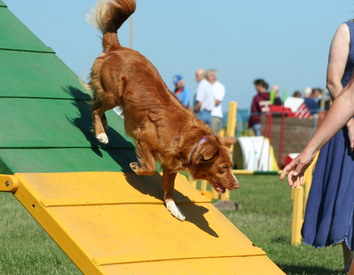 Storm on the 'A' frame, she has been doing really well this year and has won us through to Grade 3 in KC agility, we have now got a lovely certificate celebrating her winning out to grade 3 from Agility Net, thank you.
They each got a clear round at the show, Storm in the jumping and Pepper in agility - I am afraid that they both get let down by their handler a lot of the time, she has a habit of getting lost or forgetting where she is.
Flyball
I just love this picture of Pepper, we went to a Toller training weekend in July 2010 and had a go at flyball which she seems to love, she just looks as if it is the best thing in the world, one day we will have the time to start training properly and maybe compete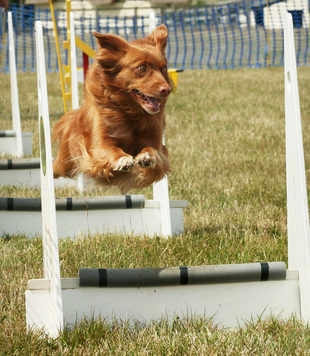 My thanks to Gerard Redman for this picture
Showing
We had a lovely day at LKA in December 2010 and saw the gorgeous TJ (Tollpepper Tannas) which was really nice. Finn did not recognise her brother though, was more interested in the treats that were on offer.
We spent a day at Manchester Championship Show in January 2011 and had a lovely time meeting old friends. Finn is still very happy to get loads of nice treats and thanks the judges who were very nice to her.
Our entry tickets for Crufts 2011 have now arrived and are sitting safely waiting to be used - no nerves in this household! This will be the first time we have actually competed at Crufts although Storm did qualify when she was showing but her daughter Finn is going to fly the flag for her.
We had a great day at Crufts, Finn really enjoyed herself and to make things even better she got a Reserve place in the Good Citizens Bitch Class, her brother TJ also got a Reserve in post graduate dog, we are so proud of them.
General News - 2010, 2011
The dogs have really been enjoying the snow it seems to suit Tollers to play outside in it, here they are at New Year having a good explore of the hedges in the fields near us, you can see Finn, Storm and Jack - well their tails anyway.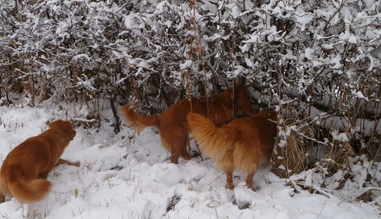 Now we are looking forward to starting our agility training again, Finn is going to have a go too this year. We are also going to try and make some more Toller meets and training days this year and see our friends again both four and two legged.
Finn has been to two agility lessons so far and has really really enjoyed them all that jumping and getting loads of nice really special treats. she thinks that if she goes really fast she could leave me behind and maybe, one day, will get a big red rosette.
We went to Pevensey last year and Jack and Finn had their first experience of the sea, it was quite rough a lot of the time but they thoroughly enjoyed themselves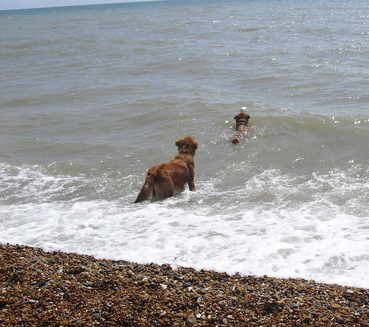 Finn had just learnt that she could swim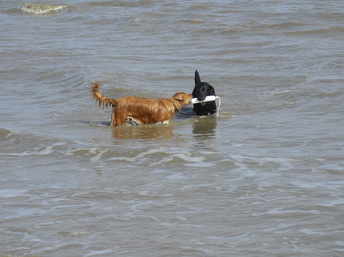 Poppy's favourite thing is swimming and bringing back whatever we have thrown in to the water, Finn thought she needed some help!
At Christmas we had a secret santa present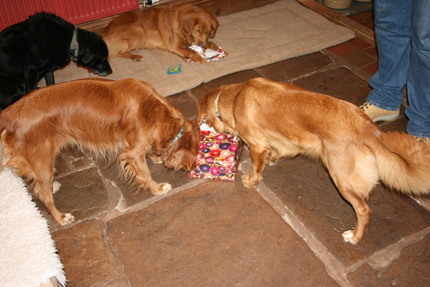 Jack was most interested in the paper wrapping, Pepper mastered opening the present with Finn whilst Storm and Poppy just looked on
Here is a video of them all out on a walk in February 2011
Older Stuff
Some one reminded me the other day that we had had a go at Dock Dogs a couple of years ago - this is where the dogs jump into a pool of water and compete for the greatest distance. You would think that a Toller (water lover) would be good at it wouldn't you?
Well here is Storm's effort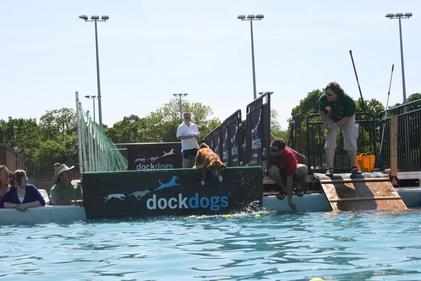 as you can see - she wasn't too sure, eventually she jumped in but it was not that impressive