Storm
Lightning Storm of Tollpepper AW(G) RL3
sleep well my precious girl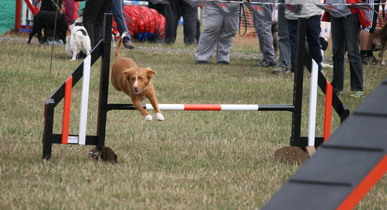 Pet Name : Storm
d.o.b: 29 Dec 2005 - 25 March 2019
Storm was our second Toller and was a fantastic ambassador for the breed. She was been headstrong at times, but would willingly have a go at anything asked of her. She went out beating but due to her enthusiasm for chasing prey didn't go out for a while, when she matured and had a more 'steady' nature she occasionally went on a 'walked up' shoot where she just had a ball, doing what she has been bred to do. She has been shown and did reasonably well but eventually she decided that it wasn't fun any more so has been withdrawn from the show scene.
In May 2009 Storm had six puppies (read about them on our litters page) and in April 2011 she gave birth to five more puppies (again there is more about them on the litters page).
Storm was a registered PAT dog and like Pepper is proved to be a great success with the people she visited.
Storm wass been awarded her Bronze agility warrant (May 2012), her Silver warrant (July 2012) and her Gold Warrant (September 2016) and moved to Grade 7 in Kennel Club Agility. Due to her age she retired from Agility and took up Rally where she did reasonably well when we got to competitions.
Storm enjoyed her retirement, but sadly she had a stroke which, whilst she seemed to recover for a while, caused her more damage than we realised and she left two weeks later when she could no longer stand up as her legs had failed. She is sorely missed.
Here is a picture of some of Storm's trophies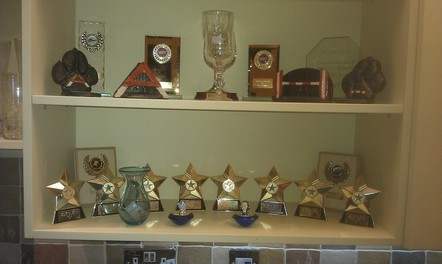 Storm's achievements:
General
Storm has taken and passed her Bronze and Silver Kennel Club Good Citizens awards
Registered PAT Dog
Showing:
All her results for Championship shows and her critiques can be found here
2006
National Gundog - VHC Junior
Welsh Kennel Club - 3rd Junior
Stroud & District Canine Society - Res AV Gundog
Chepstow & District Canine Society - 3rd AVNSC Gundog Special Yearling
Coventry Gundog - 3rd Junior
2007
Manchester - VHC junior bitch, 2nd junior bitch AV Rare Breed (Gundog)
Mid Western Gundog Society - 2nd Junior
Three Counties - 2nd Junior Bitch
Hereford & County Kennel Society - 3rd AVNSC Gundog Special Yearling
United Retriever - VHC Graduate
Welsh Kennel Club - 1st Post Graduate
Leominster - VHC - AVNSC Gundog Post Graduate and Open
Monmouthshire Show Society -3rd AVNSC Gundog
Gundog Society of Wales - Res Post graduate bitch
Oxfordshire County & Thame Show - 2nd Graduate 1st Open Bitch
2008
Mid Western Gundog Society - 1st Post Graduate
Norfolk & Norwich - 3rd Open
Windsor - VHC Open Bitch
Agility:
All her agility results can be found here
Her highlights were:

Winning into Grade 2 in 2010 at Heart of Wales, Grade 3 in 2010 at BHC, Grade 4 in 2012 at Dordale spring show and, Grade 5 at Dordale summer show in the same year, then her final win to achieve Grade 7 was at Adams Easter show in 2017. She retired from agility after the Kennel Club international Festival that where she collected a lovely amount of rosettes for her 1st and 2nd places. What a girl and what a career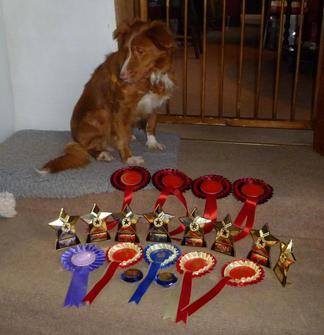 Rally
Her Rally results can be found here
Her health tests:
Hips: RH - 3 LH - 4
Eyes - Optigen test prcd-PRA - clear ; CEA/CH - clear : BVA eye test GPRA -clear
DE - Clear ; DM - Clear ; JADD - probable clear ; CDDY/IVDD - N/N
DLA Haplotype: 00601 005011 02001 01502 00601 02301